For a summary of Recommendation Thursday, see
here
. For tips on nail care, see
here
!
There are a lot of product areas to talk about with nail care, but I'll just go in the same order as I did for Tip Tuesday to make it easy on us. First topic, then, is nail treatments, and boy, is it a doozy. Future Recommendation Thursdays will focus on smaller topics (for example, "pink blush" or "lengthening mascara"), because you do
not
want to know how much time it took me to sift through all this information!
The sheer volume of nail treatment options is overwhelming. There's drugstore options, high-end options, online-only options; treatments for weak nails, soft nails, brittle nails, ridged nails, yellow nails; gel treatments, lacquer treatments, oil treatments...it's like, whoa, guys. I don't really know what the difference between weak nails and soft nails is, so I'm just going to pretend they're the same thing; ditto with brittle and dry. The terms I use are:
strength
: for weak or brittle nails ("strengtheners" and "hardeners" are in this group); these are often also growth products, because stronger nails can grow longer without breaking
growth
: for short, damaged nails
cuticles
: products intended to help with the cuticles
base
: products that can be used as a base coat/with other nail polish
I'll link to the product and give price and size numbers when possible.
These recommendations are based on my own experience, Makeup Alley ratings, ratings from stores like Amazon, Drugstore.com, and Sephora, and recs from other trusted beauty blogs.
The list is biased towards cheaper, easier to find treatments, as well as those that I've tried myself, but if you want more suggestions for a given problem area, let me know and I can give them to you (I have a spreadsheet, don't ask). I also welcome any suggestions you have!
Avon Nail Experts Strong Results Length and Strength complex
($6.50 for 0.4 oz) is a fast-absorbing liquid intended to
strength
en nails and is one of the products that I've personally used. It claims to give you harder, stronger nails in only 5 days, but it took more like 2 weeks of twice-daily application for me to really see a difference. I recommend getting it when it's on sale or special (which is pretty often), because you can get it for half-price or less. You can't wear it under or over nail polish, but if you don't wear polish very often, it's a great choice, especially because it absorbs pretty much immediately (no sticky fingers!).
image from Avon
Nailtiques Formula 2 (PLUS) Nail Protein
comes in a teeny jar ($9.50 for 0.25 oz), but is extremely well-reviewed by Makeup Alleyers. It's a
strength
ening and
growth
treatment, and can be worn alone or with other polish. I believe Sally Beauty carries it, though I'm not 100% positive; I'd like to give it a try, but it's a bit too expensive for me to justify it.
image from Nailtiques
Sally Hansen Hard as Nails Strengthener
is the base coat I use, and I can attest that it does
strength
en nails. You can wear it under polish or on its own, and the price is hard to beat ($2.99 for 0.4 oz), though I have knocked over the bottle a couple of times, because the base is quite small for the height. If your nails aren't in too bad of shape, this is a good, easy-to-find product to try out.
image from Sally Hansen
Sally Hansen Natural Nail Growth Activator
($8.50 for 0.45 oz) and
Nailgrowth Miracle
(~$8 for 0.45 oz) seem to be very similar products, as they're both intended to help
with nail
growth
. I haven't tried either, but they both have great reviews. I think they can also both be worn as
base
coats; the Activator is no longer on Sally Hansen's website, so it may have been discontinued and be harder to find (though the link above is to Amazon, which does have it), but I've seen Miracle in drugstores.
Nailgrowth Miracle (left) and Nail Growth Activator (right), images from Sally Hansen and Amazon, respectively
There are also a crap ton of cuticle care products, with cuticle oils being the most common. Some good options are:
Sally Hansen Vitamin E Nail and Cuticle Oil (~$6 for 0.45 oz) is a nice drugstore option, and one that I've tried myself. It claims to help both nails and
cuticles
, but it didn't really do anything for my nails. It has helped my cuticles, though; I apply it nightly before bed, and there's been a decrease in hangnails and the like. One thing to note is that you only need a drop to cover one hand; the directions say to brush it on every nail, but that will just make your hands drippy and gross. It spreads easily, so a little goes a long ways, and the bottle I have will last me many months.
image from Sally Hansen
CND Solaroil
(~$7.50 for 0.25 oz) and
Haken Cuticle Oil
($5.50) are other well-reviewed cuticle oils, with adherents saying they're fast-absorbing and work well at making nails and
cuticles
healthy. CND is the one that many nail junkies swear by, but Haken has fantastic reviews. I believe you can find both at Sally Beauty, and probably at some drugstores as well.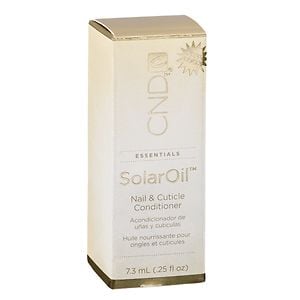 CND SolarOil (couldn't find a picture of Haken, sorry!)
Burt's Bees Lemon Butter Cuticle Cream
(~$6 for 0.60 oz) is a good choice if you don't like dealing with oil, and is readily available. It softens
cuticles
and helps prevent hangnails, and the tin it comes in is super cute.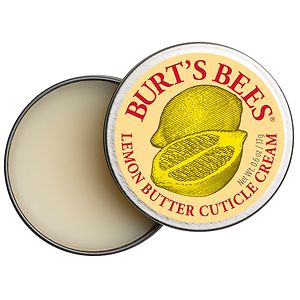 image from Burt's Bees
You can use cuticle treatments when wearing nail polish, as long as the polish is dry. Hand lotion or moisturizer also helps cuticles, so you could try that first before splurging on cuticle treatments (I like
Nivea Soft
, though
L'Occitane Shea hand cream
is very popular). Vitamin E capsules are also good for nails, though they're very sticky, so it's definitely something you should only use at night. I find that one capsule is enough to cover both hands for 2 nights.
Keeping nails a sane length is also part of nail care. I use Emery boards to file my nails, but glass/crystal files are a good choice if you like not having to replace them often and are good about keeping track of your supplies (which I'm really, really not);
Sephora
, Essie, and La Cross all make good glass files. Nail scissors and clippers are useful, too, especially if you have a tendency towards ingrown nails;
Revlon
,
Tweezerman
, and La Cross (the latter of which I use) are good choices. Lastly, some people like buffing their nails, which helps get rid of ridges (be careful not to buff too much, though, or else you risk making your nails weaker) and add a nice natural shine, as if you're wearing mild top coat but without the hassles of application and removal. I got a
cheapie one from Sally Beauty
that works great, but
Revlon's Crazy Shine nail buffer
and
Sephora's 4-step buffer
are also well-liked (and you should never have to pay more than $5 for a nail buffer!).
Phewf. That was a lot! Do you have any favorite nail care related products? What are they? What would you most like to try? And lastly, what would you like to see covered in future Rec Thursdays?