Facial masks can serve many purposes. Some are designed for acne-prone and oily skin (usually containing clay), some for dry skin, some for irritated and sensitive skin, and yet others work as peels and exfoliators. I've scoured the web for the best masks of each type, and will now share them with you, my lovely and devoted readers! For DIY mask ideas, see my Tip Tuesday posts
here
and
here
.
Peel masks
, not necessarily the same as peel-off masks, are masks that contain AHAs (Alpha Hydroxy Acids) to chemically exfoliate and reveal brighter, fresher skin. I've never used them myself, but I've read that you should leave them on for absolutely no longer than instructed to, as the acids can be too strong if left on for longer, and if you have very sensitive skin, it's probably wise to stay away. This field seems to be one where higher end (and higher cost) products do give better results than cheaper ones, though you can still find affordable options that work well, too.
REN Glycolactic Skin Renewal Peel Mask and Alba Hawaiian Enzyme Facial Mask
REN Glycolactic Skin Renewel Peel Mask
($55 for 1.7 oz) and
Mychelle Incredible Pumpkin Peel
($22 for 1.2 oz) come especially highly recommended, though
Alba Hawaiian Enzyme Facial Mask
($10 for 3 oz) and
Freeman Feeling Beautiful Facial Enzyme Mask, Pineapple
($3.99 for 6 oz) are good choices if you're on a budget.
Clay masks
are generally most beneficial for oily skin, though you can see a break down of the different kinds of clay at my post
here
. Most clay masks sold in stores are composed of kaolin and/or bentonite clay, and so are best for normal to oily skin, and all those discussed here are of that type.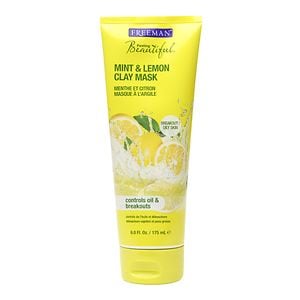 Freeman Facial Clay Mask Mint and Lemon and Queen Helene Mint Julep Masque
I've personally used the
Mark Shine Fighter mask
(reviewed
here
; $9 for 3.4 oz) and liked it, though it's not HG for me; it has silica (
not
the same as silicones, don't worry––silica absorbs oil) and various fruit extracts, but no bentonite clay, so it's a good option for people with skin closer to normal than oily.
Freeman Feeling Beautiful Facial Clay Mask Mint and Lemon
is the other clay mask I've tried ($4 for 6 oz, review coming at some future point), and it works better for my skin type as it has both kaolin and bentonite as well as lemon (an astringent), and the mint feels very lightly tingly. The most popular clay mask (and, perhaps, the most popular mask, period) is
Queen Helene Mint Julep Masque
(~$4.50 for 8 oz, available at drugstores), which, in addition to having both kinds of clay and a healthy dose of mint, contains sulfur, which is the one ingredient that has been the most beneficial for me in treating acne. Methinks I must try the Mint Julep mask asap!
Mary Kay Revitalizing 2 Mask
has gotten rave reviews on MUA, but I've never tried it, and I can't find a list of ingredients online.
Murad Clarifying Mask and DDF Sulfur Therapeutic Mask
If you want to go high-end,
Murad's Clarifying Mask
($37 for 2.65 oz) seems to be a good choice, and contains sulfur, salicylic acid, both kaolin and bentonite clay, and various hydrating fruit oils, so it should be a great one-stop-shop kind of mask to control acne, oiliness, yet still soothe irritated skin and not dry it out.
DDF Sulfur Therapeutic Mask
($38 for 4 oz) seems to work well for the especially oily and acne-prone among us as it has high levels of sulfur and soothing aloe vera. Lastly, if you want to mix your own clay masks and have oily skin,
Aztec Secrets Indian Healing Clay
($7.68 for 16 oz) is pure, dry bentonite clay that you can combine with any other mask ingredients for a personalized solution (again, see the two previous Tip Tuesdays for ideas on what else to add)––the wannabe-mad-scientist in me is just
dying
to try this.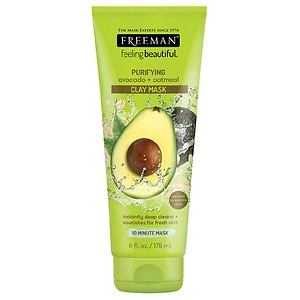 Freeman Facial Clay Mask Avocado and Oatmeal
Moisturizing masks
are intended for those with dry, dehydrated, irritated, or sensitive skin, and most of this type are high end. The one exception is the
Freeman Feeling Beautiful Facial Clay Mask Avocado and Oatmeal
($4.29 for 6 oz), which does have clay, but in lower concentrations than the other clay masks, and contains lost of moisturizing and soothing ingredients like various plant oils and oats. I would still say it's best for those with normal-dry to normal-oily skin, as is the
Korres Yogurt Mask
($29 for 1.35 oz), intended for those with oily skin that feels dehydrated, but frankly, you'd be better off just making your own yogurt mask (see posts tagged with "yogurt" for how-tos and suggestions).
Dr. Hauschka Moisturizing Mask and Chantecaille Jasmine and Lily Healing Mask
If you have very dry or irritated skin,
Dr. Hauschka Moisturizing Mask
($52.95 for 1.1 oz), with quince oil,
Caudalie Moisturizing Cream Mask
($40 for 1.6 oz), with grapeseed oil, and
Chantecaille Jasmine and Lily Healing Mask
($79 for 1.7 oz), with rosewater, are good bets for a dose of deep hydration.
Have you used any of these masks? What did you think of them? Which ones would you be interested in trying?