I'd thought about ordering samples of "raw" perfume ingredients to familiarize myself with the different notes, but ended up deciding that $80+ could be spent better on perfumes that are known for exemplifying a given note.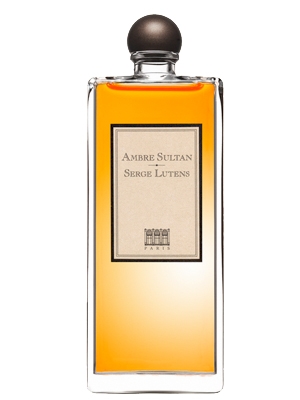 Ambre Sultan is such a scent for the note of "amber", which is traditionally characterized by a blend of labdanum, benzoin, and styrax (see
Bois de Jasmin's post on amber/ambergris
and
Perfume Shrine's review of Ambre Sultan
for more info). Ambre Sultan was introduced in 1993 by Serge Lutens, one of the most well-known niche perfumers. Lutens lives in Morocco, and many of the scents in his line revolve around exotic/oriental notes like amber, oud, and woods.
Ambre Sultan supposedly smells, to some, like a woman's, ahem, ladyparts. To this, I give my ORLY face:
There are all sorts of inappropriate things I could say (and, frankly, am
dying
to say), but I will restrain myself to just this: I can only hope I smell this good down there. (I assume there are no children reading this, right? Oh dear.) Ambre Sultan smells like amber, as would be expected, with a hefty dose of herbs to make it interesting. I can't hope to be able to describe amber's scent, since it kind of just
is
(just smell Ambre Sultan and you'll know what amber smells like!), but it's got some vanilla and warmth and spiciness, and it lasts
forever
. The aromatic herbs fade after an hour (most drastically after the first 15 minutes), leaving the rich, complex amber base with hints of plants. It's warm, it's cozy, it's delicious. I find it works equally well sprayed down my shirt as on my arm, which is great; some scents are only good down the shirt (The Different Company Osmanthus, for me), and others need to be smelled up close to be appreciated (Guerlain Samsara, to a certain extent), but I like best those that work from any distance. Such is Ambre Sultan.
I find it to be a cool weather scent, since it can be rather bold in the heat, but if you're the type who likes heavy fragrances in any weather, Ambre Sultan should work just fine. It's quite strong; I use one spray and it lasts all day (though it does fade, of course). It would work well on a man, too; scents often pull sweet on my skin, and I think on others the herby-woodiness may stand out more. Regardless, it's a gorgeous scent, and well worth getting a sample of. Tania Sanchez gives it 4 stars in
Perfumes: The Guide,
saying it is "a throwback oriental, a back-to-basics amber for the well-heeled perfume buyer who is too cool for the hippie shop but nevertheless prefers this kind of folk naïveté to the artfulness of a Shalimar," and is distinguished from other amber perfumes by "a high dose of fantastic dried-herb smells, which give it, in the top, a dusty, salty, outdoor air, before the more familiar vanillic balsam plot takes over" (66). For other reviews, check out
Bois de Jasmin
,
Perfume-Smellin' Things
, and
1000 Scents
. The notes, from
Fragrantica
, are angelica, patchouli, bay leaf, sandalwood, coriander, myrrh, and resins.
$120 for 50 ml,
available from
Aedes
,
Lucky Scent
, and
Barneys
; I ordered a 1 ml sample of it in the
7-sample packs available from Aedes
($15, including shipping––I have, like, at least 3 more orders' worth I want to try, and for that price, how am I supposed to resist?!). It's available from other sample services (Lucky Scent, Surrender to Chance, The Perfumed Court), but Aedes is by far the best deal (half the price or less of the others).