I've been battling a cold since last Thursday, and while the sore throat has gone back where it came from (hell), the congestion has been much more tenacious. As such, I haven't been able to smell properly, which makes writing a fragrance review less feasible. Fortunately, I happened to have one already written, which I'm posting today! I was intending to post it with one or two other Guerlain frags, but what with the phlegm and stuff we'll just have to settle for the one. And really, if any fragrance deserves its own post, it's Mitsouko. Beautiful, beautiful Mitsouko...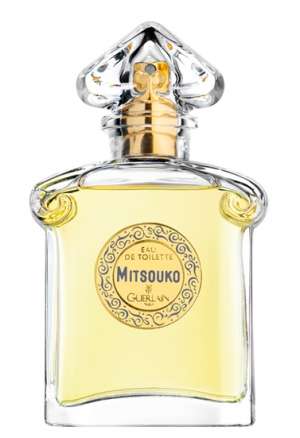 Mitsouko was created in 1919 by Jacques Guerlain. The
Guerlain website
says it was named after the heroine in the novel
La Bataille
, by Claude Farrère, who was "a beautiful, married Japanese woman [who] secretly love[d] a British officer". It was modeled on Coty Chypre, a long-discontinued fragrance that pioneered the chypre structure (and gave it its name), characterized by a trio of bergamot, labdanum, and oakmoss; in
Perfumes: The Guide
, LT says that Mitsouko is the one perfume he would choose over all others, and calls it the 'reference chypre'. Mitsouko is, in a word, marvelous. The first time I put it (in the edp formulation) on, I practically died from the beauty. No, seriously. I couldn't stop smelling it, and I really couldn't believe my nose. It didn't seem possible that something so breathtakingly gorgeous could actually exist. I've gotten better about identifying fragrance notes, but with Mitsouko, I don't really even try. The accord is so flawlessly composed, so beautifully balanced, that it seems to be one glorious, lustrous whole, and I really have no desire to try and break it down. As
March of Perfume Posse says in her ode
,
"Mitsouko is one of those givens – like Mount Everest, or death. It exists in its timeless majesty, whether or not you appreciate it...It was my first introduction to the kind of ecstasy a scent could provoke. I had no understanding of it; I had no concrete idea of what I was smelling. Mount Everest doesn't care whether you understand it."


And so has it gone for me. There's a peach top note, though it lasts much longer than top notes usually do (due to its source being undecalactone, according to LT), and some musk and oakmoss, and some floral, but I'm not sure if I can actually smell those, or if knowing the notes helps me imagine I can. Regardless, combined, the effect is mesmerizing. One spray (or a couple dabs from a vial) does me for the day; it has moderate sillage, so you get whiffs of it at pleasant moments, but it isn't a cloud that extends far beyond you. I had my mom smell it (many times, actually), and she liked it but found it somewhat old fashioned; I suspect this is because she smelled it some growing up, so has associations with it, whereas it was completely new to my nose so I could appropriate it for myself. My grandmother loves it, too, but even if she didn't,
I
do. Luckily, full bottles (2.5 oz, even!) are available on eBay and from online retailers for less than $60, and I am definitely getting one once my sample runs out. I haven't tried wearing it in really warm weather, and I'm not sure I'll find it as addictively hedonistic when it's hot out, but even if it is just a cooler weather scent, it is well worth having a bottle. If you haven't smelled it yet,
do it
. If you live in a big city or near a Nordstrom, you can smell it in a store, though I warn you, you'll probably find yourself wanting more (some department stores will make you a sample!). Of course, I've read elsewhere that it takes some time before some people love it (and Marina from Perfume-Smellin' Things finds it
it doesn't mesh with her skin
at all), but that was not the case for me. L'Heure Bleue is too powdery, Shalimar can be too strong, but Mitsouko? Is perfection. The notes, from
Fragrantica
, are citrus, jasmine, bergamot, rose; lilac, peach, ylang-ylang; spices, amber, cinnamon, oakmoss, vetiver. Other reviews (among many!):
Bois de Jasmin
,
Perfume Shrine
,
Now Smell This
,
ScentSate
,
The Non-Blonde
, and
The Scents of Self
. Opinions are rather split on the reformulation; some find it to be a reasonably faithful, successful update, while others say it has lost everything that made it special. Having not smelled the vintage, I can't say how the current compares, but on its own merits, I find it quite stunning.
1 ml samples are available from
The Perfumed Court
and
Surrender to Chance
for $3, and full bottles, as mentioned above, are available online for ~$55. This is the only scent from all the Guerlains I've tried that I want to smell the parfum version of, because if it's this good in the edp? The parfum may actually kill me.
Have you smelled Mitsouko? What did you think?