Hey, look, Tip Tuesday's back! For at least today––don't count on it becoming a frequent feature. But this is just such a perfect Tip Tuesday topic that I couldn't resist!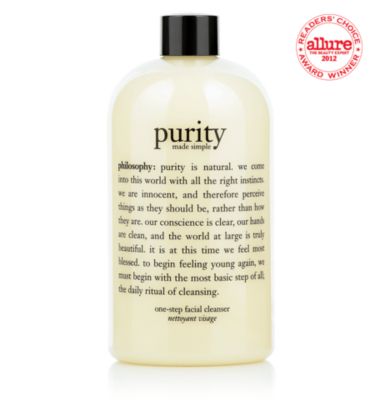 I use
oil cleanser
at night to remove my makeup, then double cleanse with
Philosophy Purity
. Purity claims to be a makeup remover as well as cleanser, but I like to be extra sure that I'm getting rid of everything. However, when I went back east, I didn't have an oil cleanser, so I had to make do with just Purity. I'd read somewhere (don't remember where, my apologies!) that you should always massage cleanser onto dry skin before getting your hands wet and washing it off, much as you do with oil cleansing. Turns out, it works like a charm! I found I had to use about twice as much cleanser as usual to cover my face sufficiently before getting it wet, and I always double cleansed it with another dollop of Purity after rinsing the first batch off, but the end result was completely makeup-free skin. I don't know if that would work for all cleansers, as I've only tried it with Purity, but it's certainly worth giving a shot. It's cheaper to do oil cleansing followed by normal cleanser than to do this method ($7.50/month vs. $10/month), but if you use a cheaper cleanser than Purity that may not be the case, and it's certainly a good tip to have in your back pocket should you ever find yourself without your normal makeup removing products!
Do you apply cleanser to dry skin? How has it worked for you?